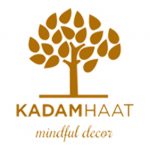 With the vision to promote sustainable and plastic free living for the global consumer, Kadam Haat is a handmade sustainable products brand – their range of products include natural fibrecraft, designed for contemporary lifestyles with a global aesthetic which encourage a more planet positive way of living,
Embedded in an ethos that pays homage to nature and the community, Kadam Haat works closely with its sister concern Kadam India, a "not for profit" organisation with the mission to generate dignified livelihood opportunities for the families of rural India. Skilling unskilled clusters in the areas of basketry, Kadam India has partnered with more than eight hundred artisans and craft communities, and has trained more than 6000 rural artisans in four states of India – West Bengal, Odisha, Uttar Pradesh and Kashmir to promote livelihoods and nurture communities. Kadam India receives state government and philanthropic funding to develop independent artisanal owned producer organizations via backend skills training and raw material development, working with Sabai grass, Bamboo, Moonj, Golden grass, Sitalpati, Madurkathi, Sholapith and Willow wicker. Kadam India will continue to expand it's impact through skills training through a pipeline of sizeable projects through development finance. Read more on Kadam India's work here.
Kadam Haat, as a customer facing organisation will accelerate the brand & distribution footprint through multiple distribution channels in both domestic and exports markets. This commercial growth in turn will support the growth of sustainable livelihood for the trained clusters and their families. The global market size for Basketry products is estimated at >$1bn, with 75% of the sourcing via developing countries. Given India's large base of skilled artisans in basketry and wide varieties of natural grasses, we believe there is an opportunity to build a sizeable premium fibrecraft brand from India for domestic and international markets with the right venture building efforts and growth capital. We are excited to join Kadam Haat's mission to create a better world, with nature's artistry.
On the association with Hearth Ventures, Payal Nath – Co-founder says "Through this association with Hearth Ventures, we are looking forward to supporting thousands of households trained by our NGO, Kadam. While the supply chain is our strength, we look forward to strengthening our front end. We are excited to build the first native artisan brand from India for conscious consumers. Let us make our world a better place for future generations"