Private Equity Investor &
Leadership Mentor
Vinayak is an alumnus of Jamnalal Bajaj Institute of Management Studies(JBIMS), Mumbai, and BITS Pilani and a Certified Corporate Director from the IoD.... His earlier stints include global leadership positions with Indian and MNC companies such as Arvind Mills and GE. In the last 15 years, he has been a partner in Private Equity Funds and an active board member at investee companies, a 4- year stint as an advisory board member with a family office, which transitioned to the Group CEO role overseeing four different industries.
Vinayak is an Angel Investor and pro-bono mentor for start-ups with two Angel networks. He is also a Board Member and Treasurer at CSA (www.csa.org.in) and an honorary Investment Committee Member at a UN SDG focused venture studio incorporated in Luxembourg.
His other interests include playing squash, scrabble, listening to audiobooks, and drumming.
Marketing Innovation &
Growth Strategist
Shefali is an alumna of Jamnalal Bajaj and INSEAD Business School, and a certified independent director. As a career marketing professional, she has built several ... brands and scaled up early-stage businesses across Pepsico, Nokia, Max BUPA, and McCormick Kohinoor. She has earlier worked as marketing capability consultant with Brand Learning Asia-Pacific (acquired by Accenture).
Shefali has also been recognized among India's top 50 women in marketing and awarded by the Confederation of Indian Industries for contributions towards the growth of health insurance in India.
She is passionate about growing people, companies, and brands sustainably. She is an honorary start-up mentor with a leading angel investing platform and honorary advisor at a UN SDG focused venture studio incorporated in Luxembourg.
Her other interests include amateur theatre, ageless lifestyle, wordplay and travel.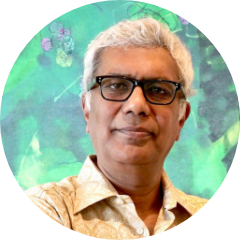 Technology Entrepreneur &
Philanthropist
Vipul is an alumnus of the Indian Institute of Management, Ahmedabad and Indian Institute of Technology, Kanpur. After 6 years with the Tata Administrative Service ( TAS), he co-founded Kale... Consultants( now NSE: Accelya ) and led the company as MD/CEO for over two decades. The company is a global leader in financial solutions for the airline industry.
Vipul is Chairman and Co-founder, Kale Logistics, a software firm focused on the global logistics industry.
He has co-founded Catalysts for Social Action, a non-profit working for children in need of care and protection. He is on the Board of Hand for Handmade Foundation and Action Against Hunger. He has co-founded Jabarkhet Nature Park, one of the first private nature reserves in India.
Vipul is an active investor in start-ups as well as many Venture Funds.
His other interests include travel, reading, and being with nature.